Date:
April 27, 2016 (Wednesday)
Location:
Healesville, Victoria, Australia
Tej Chitnis
Nickname: Unknown
Alternative Name: Unknown
Disappearance
Missing from: Healesville, Victoria, Australia
Date Missing: April 27, 2016 (Wednesday)
Taken By: Unknown
Circumstances
On April 27, 2016, a cheerful young Tej Chitnis simply vanished into thin air from the roads of Australia. According to his parents, Tej was a reliable young man, friendly and industrious – his disappearance came as a complete shock. The Chitnis family lived on Bonview Cresent, a small neighborhood in Burwood East, a suburb of Melbourne.
School
According to his family, Tej was enrolled in classes at Deakin University and commuted back and forth weekly. Although the Deakin main campus is much further away, Tej was attending the nearby Burwood campus.
Instead of driving the whole trip, Tej usually preferred to drop his car off on a side street at Blackburn Railway Station and then travel into the campus area by train.
Work
Tej also worked part of the time as staff at an Office Works branch in Melbourne.
Overall, Tej had a seemingly dependable schedule and was usually home before 4:00pm (16:00) each day regardless of whether he was at school or work.
---
The Disappearance
On April 27, 2016, Tej left his home around 10:00am to meet up with some friends in central Melbourne.
He planned to return by 4:00pm as usual, in time for his father's 60th birthday party that evening. He had asked his parents to wait for him before leaving; he would change clothes and then they could all travel to the party together.
Tej was driving his Silver Golf Hatchback Volkswagen (2005) when he left the house and had with him his car keys, phone, and wallet. The car had Victoria license plates with the ID# TTF 517.
It is here that the situation becomes confusing. Approximately an hour and a half later, Tej's car was spotted in Healesville, a town about an hour drive east of Melbourne instead.
CCTV recorded Tej's car at around 11:30am on Maroondah Highway near the Green Street intersection. The highway is the most direct route from Bonview Crescent to Healesville where the car was spotted. Tej's cell phone also was recorded for the last time around 11:50am by a tower in Healesville.
No one raised the alarm until after Tej failed to return that evening in time for the party. Neither Tej nor his car have been seen since, and his bank accounts have been left untouched.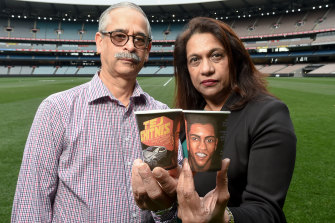 ---
The Aftermath
The circumstances of Tej's disappearance raised four key questions:
Why? Tej had not announced any plans to drive up to Healseville and (as far as his family and friends were concerned) had connections to the area.
Was Healesville the final destination? The car was seen at 11:30 and the phone pinged around 20 minutes later. This suggests that Tej spent some time in the area, but was Healesville truly where he vanished?
Why so long? The trip from Bonview Crescent to where the car was caught on CCTV should take approximately an hour. Why did the trip take the extra half an hour — was there heavy traffic or had something disrupted his trip?
Was Tej There at All? The evidence only proves that Tej's car and phone were in Healesville; the video did not show whether Tej was driving the car.
In the aftermath of his disappearance, even more questionable facts came to light.
1) Tej has a close-knit group of friends; friends who were very close to both Tej and his family and still maintain contact. None have come forward to say they had plans to meet Tej that day. In this case:
One of the friends is lying
Tej lied about meeting some friends
Tej was meeting someone the family was not familiar with (unusual for him).
2) Tej had been lying about his studies at Deakin University, having failed to attend classes for more than two years. Tej graduated from Melbourne High School in 2012 and did enter Deakin as a freshman. However, in 2014, he ceased attending.
Tej had been discussing his future plans with family and friends and told them he intended to transfer to Monash University and study medicine. Instead, they later learned that he was not even in school anymore. With Tej supposed to graduate that year, it was clear that he was in danger of some of his lies becoming apparent.
His mother reports that Tej had expressed some concern over his future, but she assumed it was just general anxiety. There was nothing to suggest things were this serious or that he was in so much trouble academically or privately.
What remains unclear is where Tej was when he was meant to be at classes. His employment at Office Works would only account for some of his time. There is no evidence to suggest he was caught up in drugs or other illegal activities. With this new information, it becomes uncertain whether Healesville was truly as unusual a route for Tej as it initially seemed.
"It is most unlike you my darling to just walk away without a word and not think what it will do to us. We love you very much and are very worried about you."

~ Message from Tej's Mother on Mother's Day 2016
---
Description
Date of Birth: November 22, 1994
Age at Disappearance: 22
Ethnicity: Asian (Indian)
Nationality: Australian
Gender at Birth: Male
Hair: Black
Eye Color: Brown
Height: 5'7″ (170cm)
Weight: Medium Build
---
Distinguishing Marks or Factors
---
Clothing & Possessions
Black Adidas Sneakers
T-Shirt
Jeans
Possessions:
---
If You or Anyone You Know Has Information About The Disappearance or Tej's Life Before He Vanished, Please Contact the Forest Hill Police Station at +61 (03) 8847-3600 or Crime Stoppers at +61 (1800) 333 – 000
Resources
---
DISCLAIMER:
The information offered through our Services is general information only. We make every effort to maintain the database and ensure the data is up-to-date and correct. However, we make no warranties or promises regarding the accuracy, validity, reliability, availability, or completeness of the data herein. Data is gathered primarily from NGOs, new articles, and Charity postings. This information is not intended for reliance. Under no circumstances will The Suitcase Detective or its owners & operators be liable for any problems that may result from using or reading this information. Continued use of our Services serves as evidence that you approve our Privacy Policies and Terms & Conditions.
Please do NOT copy and paste text from our blog articles. We request that readers be directed to our site instead. This allows us to ensure out-of-date information is not being shared and that readers can access the reference list. If you would like to share a story, you can either use the social media buttons or share a link to this page. The images you are welcome to share.